Mommy Makeover
Conveniently located to serve the areas of West Hollywood, Beverly Hills, Los Angeles and Pasadena, CA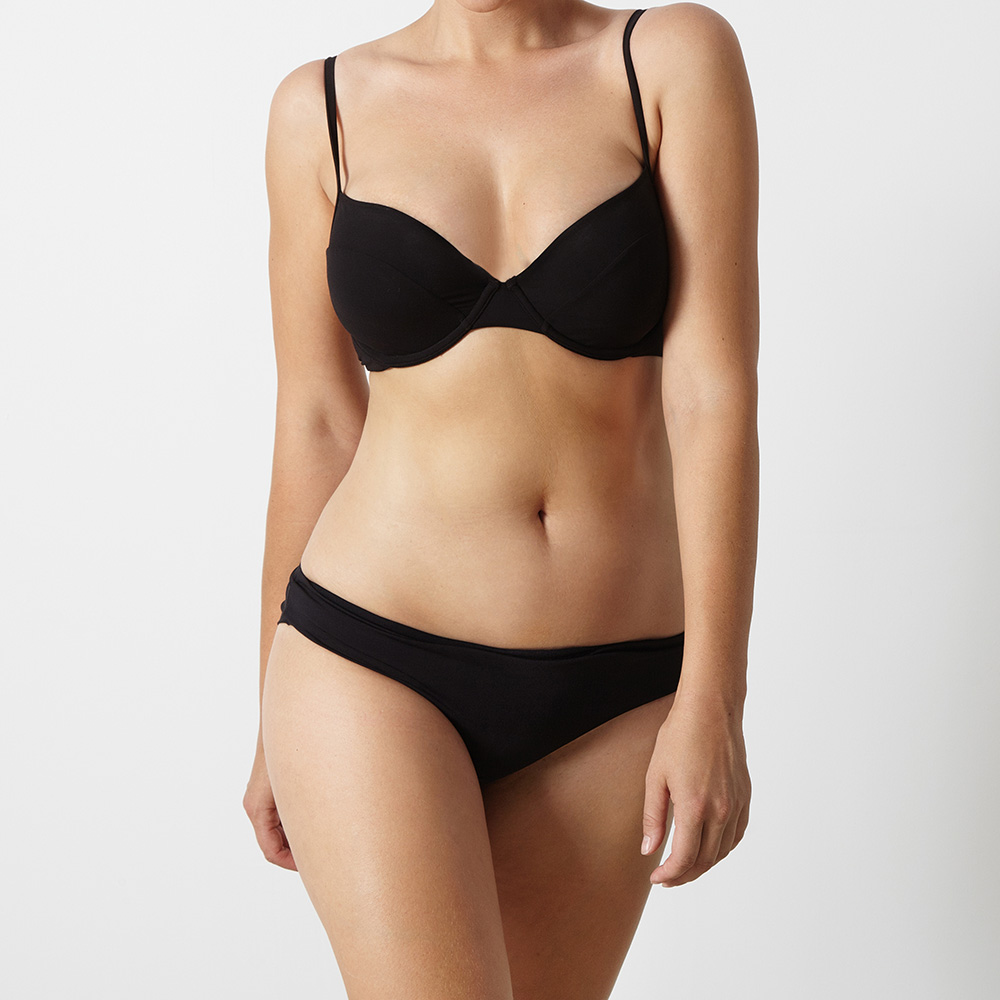 The journey of motherhood is a beautiful and transformative experience. However, it can also take a toll on a woman's body. Pregnancy, childbirth, and breastfeeding can lead to significant changes in the breasts, abdomen, and overall body contour. Many women find it challenging to regain the appearance of their youthful selves and struggle with self-confidence as a result. Fortunately, we offer an effective solution: the mommy makeover. This comprehensive procedure combines various aesthetic treatments to address the multiple areas affected by pregnancy, childbirth, weight gain, and loss.
Before and After Photos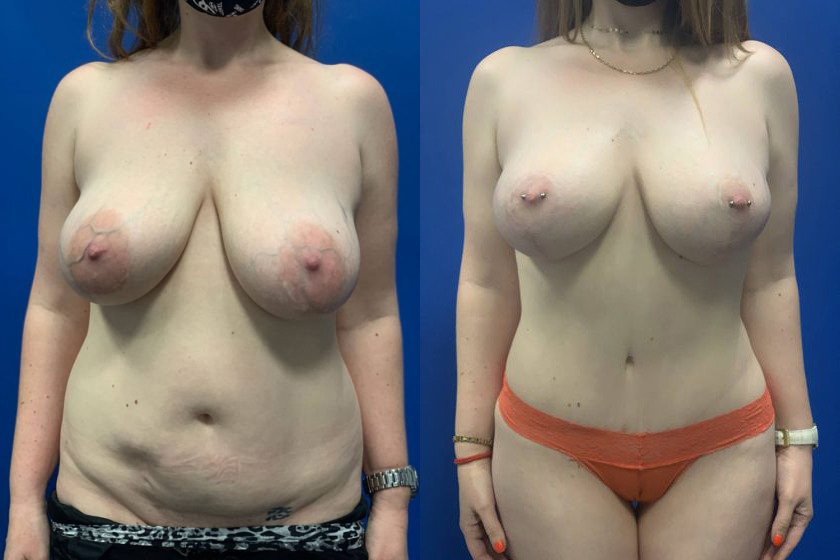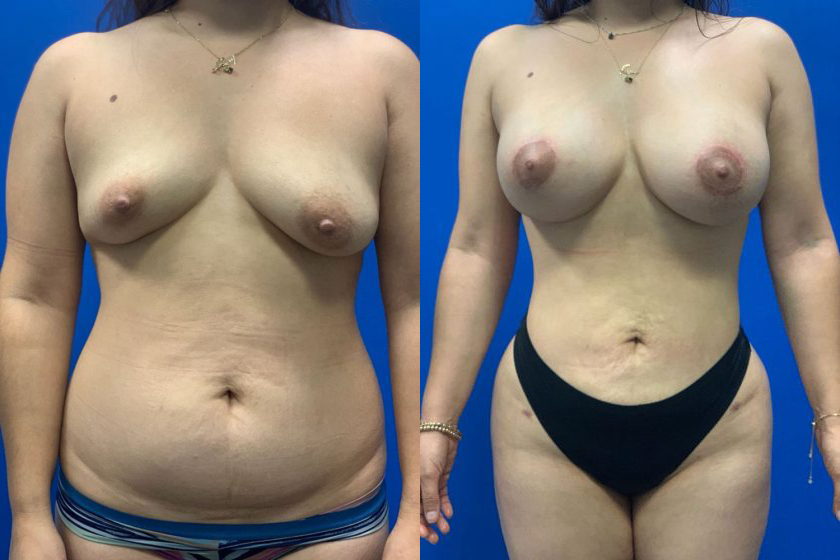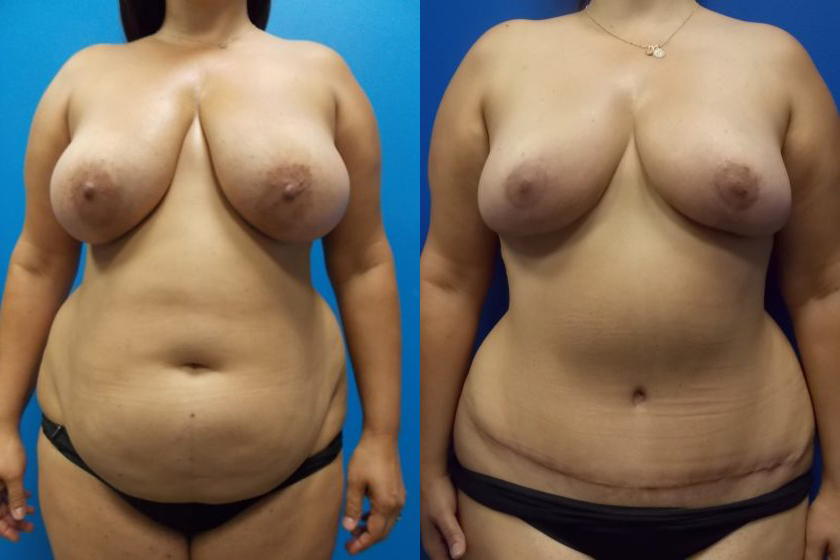 View Gallery
A mommy makeover is a comprehensive cosmetic surgical procedure that addresses the breast and abdomen during the same operative time. In general, a mommy makeover reverses the changes that come about to a woman's body after pregnancy. The "mommy makeover" procedure name is also used to address the changes brought about by weight loss, or simply when the breast skin loses elasticity with aging (without having had any history of pregnancy). The same goes for the abdominal skin and underlying abdominal muscles. Dr. Mossi Salibian, a renowned board-certified plastic surgeon in West Hollywood, specializes in aesthetic procedures and can provide you with exceptional mommy makeover results.
The mommy makeover combines various techniques in restoring or enhancing the appearance of the breasts and abdomen or midsection. It is often characterized by a full tummy tuck with a breast augmentation, a breast lift, or more commonly a breast augmentation with lift. Liposuction, liposculpting, and judicious fat grafting are often done as adjunct procedures depending on each patient's unique needs.
If you're considering a mommy makeover, schedule a consultation with Dr. Salibian at his West Hollywood office. During this personalized appointment, he will listen attentively to your goals, assess your health, lifestyle, and body habitus, and he will recommend the most appropriate procedures to achieve your desired outcome. To begin your journey towards reclaiming your pre-pregnancy body, call us at (310) 550-0750 or fill out a form on our website for more information.
About the Mommy Makeover
Breasts
One common concern among women is breast deflation and sagging. Breast augmentation, breast lift, or a combined breast augmentation with lift are commonly key components of the mommy makeover procedure. They can restore volume and fullness to the breasts, whether you desire a subtle enhancement or a more dramatic transformation. Dr. Salibian will work closely with you to determine the ideal implant size, shape, and placement to achieve your desired outcome.
Body
The mommy makeover often includes a tummy tuck (abdominoplasty) with liposuction to the waist and flank regions as necessary. An abdominoplasty can address diastasis recti, when the abdominal muscles weaken and separate. The muscles are usually tightened in the center similar to an internal corset that enhances the hourglass feminine figure. (1) It may also include midsection liposuction or 360-degree liposuction and lipocontouring if the abdominal skin and muscle laxity is minimal, and if excess skin does not need to be removed.
Fat Grafting
Fat grafting utilizes a patient's liposuctioned fat rather than discarding it. It is specially prepared using sterile techniques, with minimal damage to the harvested fat cells, (2) then judiciously re-injected to areas that need plumping. These include the face and cheeks, where aging or weight loss has thinned facial fat pads, or the hip regions, to enhance the hourglass appearance. Fat grafting is commonly used in the upper portions of the buttocks for enhanced buttock projection with customizable results, per the patient's specific desires and aesthetic sensibility. It is important to understand that fat grafting can be performed safely and judiciously when carried out by experienced and trained hands.
Tummy Tuck
The abdominoplasty is designed for individuals who have excess skin and fat in the abdominal area, as well as weakened or separated abdominal muscles. During a tummy tuck, Dr. Salibian makes incisions in strategic locations in the midsection to access the underlying tissues. The length and pattern of these incisions may vary depending on the extent of correction needed and the patient's individual anatomy. However, they are carefully planned to ensure optimal results and minimize visible scarring. The umbilicus (belly button) and its blood supply is also preserved and repositioned at its anatomically correct position.
Liposuction techniques may also be utilized to further contour the waistline, the upper and lower back, the axillary rolls, and love handles to achieve a more sculpted appearance. Finally, when necessary, he will plicate or suture tighten the underlying muscles back together, creating an internal corset that results in a firmer and flatter abdominal wall.
Tummy Tuck Benefits
Improved Abdominal Contour
An Hour-Glass Appearance to the Mid-Section
Firmer Abdominal Muscle Tone
Increased Clothing Options and Improved Silhouette and Fit
Enhanced Self-Confidence and Body Image
Other Body Contouring Options
Body contouring as part of a mommy makeover offers numerous benefits that can help women regain their confidence and achieve a more toned and sculpted physique. It can include liposuction in various areas of the body, a buttock lift, arm lift, thigh lift, or any other body contouring procedure; such as fat grafting, that a patient wishes to add to their mommy makeover.
All in One?
One of the key advantages of a mommy makeover is the shorter recovery time compared to undergoing several separate procedures. Mommy makeovers typically involve multiple procedures performed during a single operation, which means patients only need to go through one recovery period. This can be more convenient and less disruptive to daily life.
Breast Augmentation & Breast Lift
Breast augmentation accounts for almost 18% of all plastic surgery procedures. (3) And the breast lift is one of the most commonly chosen surgeries in the mommy makeover. During breast procedures, Dr. Salibian utilizes advanced techniques and state-of-the-art technology to create natural-looking results tailored to each individual patient. He understands that every patient is unique, with their own specific goals and concerns.
With breast augmentation, he offers a wide choice of implant types, shapes, projections, and sizes. He also takes the time to listen to his patients' desires, thoroughly assess their anatomy, and formulate a customized treatment plan. With a breast lift, Dr. Salibian will reposition the breasts to a more aesthetic position on the chest wall, repositioning and oftentimes reducing the size of the nipple-areolar complex.
Whether a patient wants to increase their breast size, restore volume lost due to aging or post-pregnancy, correct asymmetry, or improve the overall shape and position of the breasts, Dr. Salibian combines his expertise with the patient's input to deliver exceptional results.
Benefits of Breast Enhancement
Increased Self-Confidence
Balanced Body Proportion
Improved Breast Symmetry
Restored and Enhanced Breast Volume
Improved Clothing Fit and Options
Boosted Sense of Femininity
Increased Satisfaction with Body Image
Daddy Do-Over: The Body Makeover for Men
A daddy do-over, also known as a man-makeover, is a comprehensive set of cosmetic procedures specifically designed for men who want to improve their appearance and regain their youthful vitality. This unique approach takes into consideration the specific concerns and aesthetic goals of men and typically includes a combination of chest and abdominal contouring procedures. The procedures chosen are tailored to address areas that may have been negatively impacted by aging or lifestyle factors.
Some common procedures included in a daddy do-over are tummy tucks for men, which may include muscle tightening in the mid-section if necessary. Liposuction may also be employed to eliminate stubborn pockets of fat (often in the love handles), and gynecomastia surgery to address male breast tissue, or sagging chest skin after weight reduction to improve the position and size of the male nipples and overall appearance of the chest.
With many years of experience as a trusted plastic surgeon in West Hollywood, Dr. Mossi Salibian is dedicated to providing exceptional care and results. By choosing Dr. Salibian as your surgeon, you can be confident that you are in the hands of an experienced professional who prioritizes your safety, satisfaction, and overall well-being.
Candidates
Ideal candidates for a mommy makeover are women who have experienced physical changes in their bodies due to pregnancy, breastfeeding, aging, or weight gain and loss. Like any surgery, there are risk factors associated. The mommy makeover may not be a good fit in the following circumstances.
If you plan to become pregnant again
If you have a serious health condition
If you have a bleeding disorder
If you are a smoker
Prior to any surgery, we will conduct a thorough preoperative evaluation to ensure your safety and overall well-being. This evaluation may include various medical tests and assessments to determine your suitability for surgery and will be used to develop a personalized treatment plan that addresses your concerns. We will work with your trusted primary care doctor to obtain clearances for your surgery.
Personal Consultation with Dr. Salibian
When considering a mommy makeover, a personal consultation with Dr. Salibian at our practice in West Hollywood is the first step toward achieving your desired results. As an experienced plastic surgeon specializing in cosmetic surgery, Dr. Salibian understands the unique concerns and goals of mothers looking to restore their pre-pregnancy bodies, and women who want to regain a more youthful appearance.
During your consultation, Dr. Salibian will take the time to listen to your specific cosmetic concerns and desires. He will review your medical history and assess your current physical condition to determine if you are a suitable candidate for the procedures involved in a mommy makeover. This comprehensive evaluation ensures that the treatment plan is tailored to your individual needs.
Dr. Salibian's expertise allows him to guide you through the decision-making process with detailed explanations of the surgical techniques involved, potential risks and complications, and expected outcomes. With his guidance, you will be able to make an informed decision about which procedures are best suited for your body and goals.
Cost of a Mommy Makeover in West Hollywood
The cost of a Mommy Makeover will vary depending on the specific combination of procedures chosen and the individualized treatment plan created for each patient. For more information, and to book your personal consultation with Dr. Salibian, call (310) 550-0750 to reach our West Hollywood location. Alternatively, you can contact us electronically by submitting a form on our website.
FAQ
What is the recovery like after a mommy makeover?
Recovery after a mommy makeover varies depending on the specific procedures performed. Generally, patients can expect some swelling, bruising, and discomfort in the treated areas. Pain medication will be prescribed to manage any discomfort. It's important to follow post-operative instructions, including wearing compression garments and avoiding strenuous activities during the initial healing period.
Can scars from a mommy makeover be reduced?
Scar reduction techniques can be employed to minimize the appearance of scars resulting from a mommy makeover. These techniques may include hiding incisions discreetly, applying topical scar tape, scar creams or gels, or other non-invasive procedures to improve scar texture and pigmentation.
Can abdominal muscles be repaired during a mommy makeover?
Yes, abdominal muscle repair, also known as rectus diastasis repair, is often performed as part of a mommy makeover. Pregnancy and weight gain can cause the abdominal muscles to separate or become weakened, leading to a protruding abdomen. During the procedure, the muscles are sutured back together, creating a flatter and more toned abdominal contour.
When can I resume exercise after a mommy makeover?
Most patients return to their daily routines within 2 to 4 weeks and exercise or other more strenuous activities requiring abdominal muscle work and physical strain in 6 to 8 weeks with specific guidelines for graded increases in resistance and endurance activities.
When will I be able to drive following a mommy makeover procedure?
Patients will be able to resume driving 24 hours after they have taken their final narcotic pain pill.
How long does a mommy makeover procedure take?
The duration of a mommy makeover can vary depending on several factors, including the specific procedures involved and the patient's individual needs and goals. In general, patients should be prepared for an all-day commitment and plan their routines accordingly. 
Will I get a chaperone after a mommy makeover?
Because it is a combined procedure, mommy makeover patients are transferred to a nursing recovery suite for 24 to 48 hours for careful monitoring. Patients are attended to by skilled personnel who are adept at taking care of patients who have undergone long hours of surgery.
What pain medications will I receive after a mommy makeover?
Often, a pain relief pump is used when such surgeries are combined to ease overall discomfort. The medication is delivered directly into the surgical areas. This allows the patient to ambulate sooner and take less oral narcotic medications.
When do I change my dressings after a mommy makeover?
Your surgeon will remove the dressings applied at your in-office follow-up appointment. You will then follow our post-operative aftercare instructions.
How long do I leave it before I shower after a mommy makeover?
It is crucial to follow the specific guidelines outlined in your post-surgical instructions. In most cases, you will be able to shower after your first post-operative follow-up visit.
References
Hall H, Sanjaghsaz H. Diastasis Recti Rehabilitation. PubMed. Published 2022. https://www.ncbi.nlm.nih.gov/books/NBK573063/
Fat Grafting: Basic Science, Techniques, and Patient Managem… : Plastic and Reconstructive Surgery – Global Open (lww.com)
Jalalabadi F, Doval AF, Neese V, Andrews E, Spiegel AJ. Breast Implant Utilization Trends in USA versus Europe and the Impact of BIA-ALCL Publications. Plastic and Reconstructive Surgery – Global Open. 2021;9(3):e3449. doi:https://doi.org/10.1097/GOX.0000000000003449